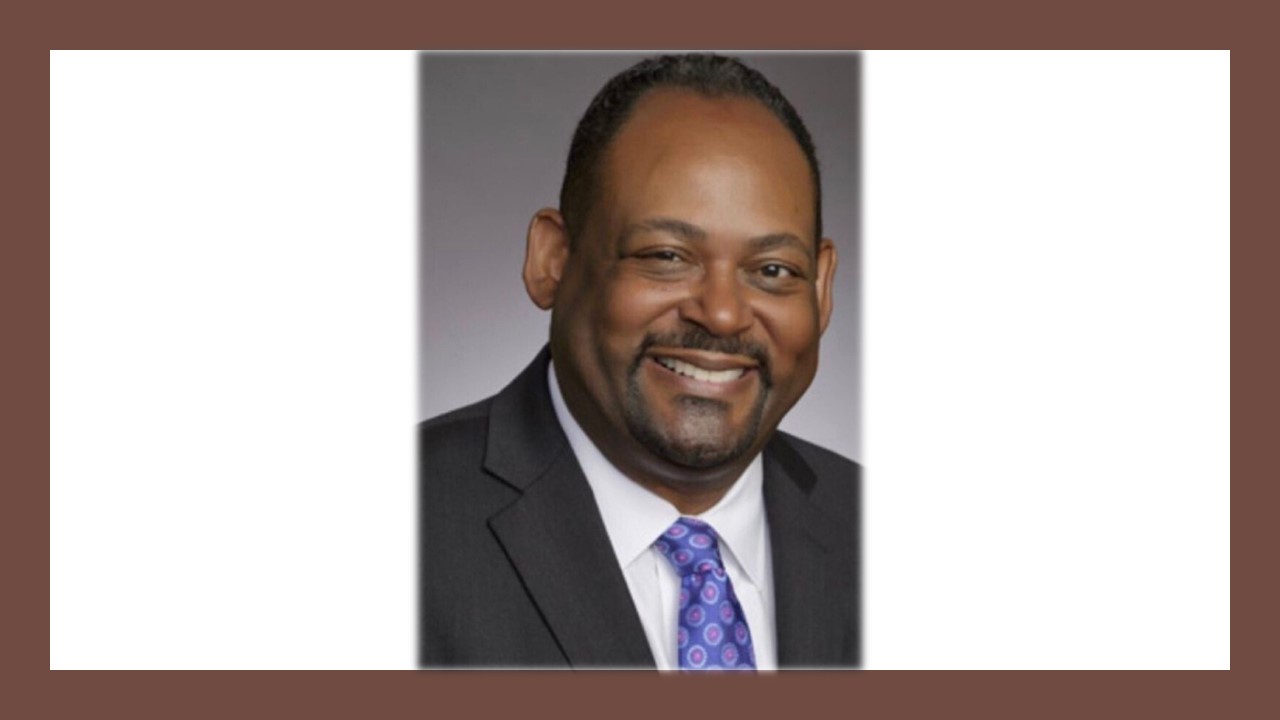 James A. Wilson, PhD
Dr. James A. Wilson, Jr. was born in the early morning hours of January 20, 1961 to James and Bessie Wilson in Texas City, Texas. As a child, he united with King Memorial United Methodist Church in Dallas, Texas and decided to trust in Jesus Christ as his Lord and Savior as an adult. He was educated in the Dallas public school system and was blessed to be raised by parents who filled his home with music and literature from all genres. His father insisted that he become a musician, and at an early age James began playing the piano and the clarinet. He flourished as a musician throughout his education and was particularly proud to be a five-year member of the University of Texas Longhorn Band. He pledged Kappa Alpha Psi Fraternity, Inc. in the spring of 1982, and he earned a Bachelor of Science degree in political science and education from the University of Texas at Austin in 1984. After his graduation from UT, Dr. Wilson began a travel journey that would eventually span for more than 35 years. He traveled extensively throughout the African continent and the world. His love for the study of African history and culture began during his tour with the United States Peace Corps in Kenya from 1985 to 1988, where he taught English and African literature at Kitumbi High School located 7,000 feet in the mountains of Taita Hills, Kenya. Over the years, he personally assisted over 50 candidates to apply and become Peace Corps volunteers.
Dr. Wilson went on to receive his Master of Professional Studies degree in African and African-American History from Cornell University. He continued his studies and earned a certificate in African Languages from the University of Florida and served as a research fellow at Oxford and Cambridge Universities as well as the University of Nairobi. He then attended Princeton University, where he earned a masters and a doctoral degree in history in June 2003. After his graduation from Princeton, Dr. Wilson began his academic career at Wake Forest University, and he later served as a professor of history at the University of Texas where he specialized in the political history of Kenya, British colonialism, and post-colonial African affairs as it relates to globalization. He also held affiliated appointments with the Center for African and African-American Studies, the Center for Women's and Gender Studies, the Rapoport Center for Human Rights and Justice, and the UT Plan II Honors Program.
Dr. Wilson joined the ranks of the Academic Affairs Division at Prairie View A&M University in September of 2009 as Director of the Honors Program. The following year, he was named Associate Provost and Associate Vice President for Academic Affairs. As a result of nurturing high academic expectations and performance, 98-percent of the Honors students completed their degrees in four years and entered top-ranked medical, law, and graduate schools. Throughout his tenure at PVAMU, Dr. Wilson established and enhanced foreign language and study abroad opportunities for students to study Chinese and Arabic. Dr. Wilson also established a Confucius Institute on the PVAMU campus in 2014 and launched a partnership with Xi'an International Studies University (XISU) in Xi'an China. He also developed a foreign language partnership with Middlebury College. Under his direction, more than 225 students have studied abroad in Ghana, South Africa, Korea, China, Morocco, France and Italy. Dr. Wilson's work at PVAMU extended to student-leadership development, and he created a leadership and mentoring program for African-American young men called, Brothers Leading and Cultivating Knowledge, also known as B.L.A.C.K. He later established a sister organization, Purple Jackets, for outstanding young female student leaders.
Dr. Wilson was the recipient of numerous awards and honors including the Phi Beta Kappa Award for Distinction in Teaching from UT. In 2003, he was awarded the Franklin H. Williams Award for Outstanding Community Service from the United States Peace Corps. He was a 2004 recipient of the "Outstanding Young Texas Exes Award" given by the University of Texas. During his academic career, he was honored with a number of awards, including The Rollins Prize in History from Princeton University and the "Keepers of the Dream" Outstanding Academic Award from the University of Florida. Most recently, Dr. Wilson, worked as Associate Provost for Academic Affairs and Director of Faculty Innovation and Enhancement (FIE) at Prairie View A&M University, and was tremendously grateful to be announced by The American Council on Education (ACE) as an ACE Fellow with Rice University for its 2019-20 program.
Preceding James in death was his beloved mother, Bessie B. Wilson. James leaves to cherish his memories: his father, James A. Wilson, Sr., his sister, Letisha Hamilton (Bobby), his nephews, Jonathan (Amber), Zachary, his niece, Natalie, his uncles, Walter K. Ball, Floyd C. Ball (Lois), his aunt, Lucille Williams, and a host of cousins, colleagues, friends, and students.




Visitation
Friday, June 19, 2020
6:00 pm to 8:00 pm
Friendship Community Bible Church
420 Wood Street, Sugar Land, Texas
Funeral Service
Saturday, June 20, 2020
11:00 am
Friendship Community Bible Church
420 Wood Street, Sugar Land, Texas
Interment
Monday, June 22, 2020
Laurel Land Cemetery
Dallas, Texas